Optimizing pysqlite/sqlite3 databases and queries: Part II: Scaling & Splitting (notes/outline for 2009 Nov 9 presentation to TuPLE -- edited post-presentation version)
---
Introduction
"How does it scale?"

Some general observations
Some actual specific test data
I will indicate sources of data and allegations

me VS other people VS both
Some motivations for this topic

Judging when (py)sqlite is appropriate for a job
Deciding when/whether splitting a database into multiple files
in attempt to speed some operations is worthwhile (klu(d)ge!)

e.g.

Different table(s) in different database files
Same table split between multiple database files

e.g. each day's data in a separate db file
Caveats
I used default distribution of pysqlite (aka sqlite3)
with Python 2.5 and/or 2.6 for Windows, unless I say otherwise.
I indexed every table effectively for my queries, unless I specify otherwise.
Each of my test sets was on some specific computer, generally slowish with

ca. 500MB of

RAM

1 to 2 GHz

CPU

speed (usually 1GHz)
other tasks/processes roughly consistent

but one exception I might mention.
Some References
How Does it Scale?
Some Theory
SQLite uses

btrees for managing blocks of space in its internal file format
btrees for indexes (indices?)
One would hope that many activities would be O(log n)
SQLite also uses

caching

behaves like some caching exists
disk caching is almost inevitable even without SQLite trying to

virtual memory

could slow if

massive db files
little

RAM

available
other activities/processes are greedy
We can assume most or all tables are indexed because:

If you care about performance, you probably index
File locking:

multiple processes can read a db file at same time
one process can write only by locking others out of writing, reading

(more details at http://www.sqlite.org/lockingv3.html if you care.)
Exception: "a limited form of table level-locking"

limited support for splitting a db between files
using

ATTACH

command.

ATTACH

permits multiple db files to be temporarily
treated as being within the same db.
a db can be somewhat split between multiple files
using

ATTACH

.
(see e.g. http://www.sqlite.org/version3.html)
Docs assumption is that a
table can't readily be split between files using

ATTACH

.

(But we can think of ways that are ugly-hacky,
e.g. tables with same definition except
different names, specially hacked-up queries…)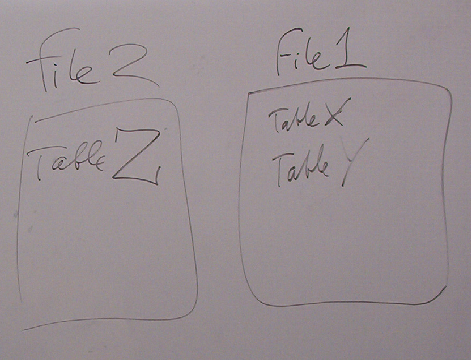 Different database files may temporarily be treated as part of the same database using SQLite's

ATTACH

command. (drawing on whiteboard during my talk)
Some Practical Observations and Test Data
Much of the commentary available on how SQLite scales is rather vague

Examples

"If you need to store and modify more than a few dozen GB of data,
you should consider using a different database engine."
"I've created SQLite databases up to 3.5GB in size
with no noticeable performance issues."

from the stackoverflow.com page in References section.

stackoverflow.com poster "Snazzer" reports test results

"Single Table"
tried to insert 50GB of data into sqlite file with one table
insertions became "far too" slow by 7GB.
"…the

VACUUM

command is a problem
the larger the sqlite file is."
Size of an index

An index on a table can sometimes be a significant fraction
of table's own size

e.g. I've seen ca. 1/3 to 1/2 for index on 2 columns of a table.
Insert rows on indexed table:

Many rows per transaction:

time for a row within that transaction does look plausibly O(log n)

where n = number of rows in table (or size of db?)

e.g.

[Test on 2009-10-11 to 2009-10-12;
db size 586,346K: a little larger than total

RAM

]

example figures from db size near size of total

RAM

:
insert indexed row

I used standardized code & transaction bundling in test

table has

string column (usually <16 characters)
integer column (happen to be <30,000)
3 explicitly created indices

Inserted 7.7 million rows

Measured insertion rate declined by ca. 4x

from 23800 rows/min (397 rows/sec) avg.
for first 500,000 rows
to 5900 rows/min around 7.5 million rows.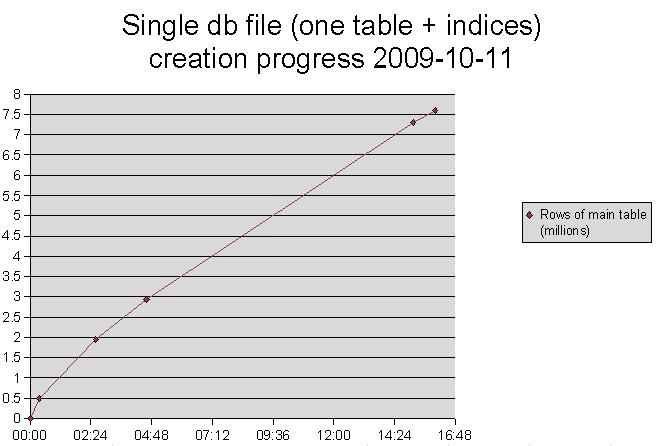 Some factors might, I hypothesize, reduce scaling effect

Sources of overhead

Separate transaction for each row inserted

MAYBE

:

?reduction in proportion of insert
that consists of updating indices?

e.g.

a wiki says :-) Charles Thayer tested in 2005 inserting
http://www.sqlite.org/cvstrac/wiki?p=PerformanceConsiderations

conditions

8 million rows
1.6 GB table size

results

72/second to 34/second slowdown
His performance starts out slower than in my test.
Another commenter on wiki wondered
how he got such slow performance. :-)
Select rows from indexed table:

In my quick & dirty test attempt,

Used well-indexed databases with sizes

0.5 million rows (~37MB)
1 million rows (~75MB)
7.7 million rows (~586MB)

Used various queries:

simple select on ~2 criteria without join
self-join
self-join on self as '3' tables

In most selects finding only a few rows,
overhead and 'background noise' seemed to swamp any scaling effects.

overhead: e.g. opening & closing db connection, cursor
usually total time was .08 seconds to 1 second
only neared or exceeded 1 second if hundreds of rows were selected.
" " " 2 to 4 seconds if thousands " " "
In these specific tests,
visible select time growth was less than O(n)

whether n is rows in db OR rows selected.

I didn't have spare time to make more, larger test dbs.

so slowing of inserts as db, table grows did cause inconvenience.
I don't have any nice graphs and charts ready for you.
select count(*)…

reportedly O(n) scaling re Charles Thayer
I saw on slower machine, different table

on 0.5M row table, 7.7M row table
ca. 7000-8000 rows/second
I did not time the selects precisely enough
to check for tiny slowdown

slowdown if any was roughly between -0% and 15%.
Whole-db operations can scale O(n2) or worse

Index creation:

I've seen 10-fold increase in table size
cause 140-fold increase in time to create 2-column index.
[large index test 2009-08-19
on ca. 450MB db vs. 10-shard split.
Index on 2 columns of table.]
vacuum is also kind of horrible

but I don't know where I might have written data, sorry.
Conclusion
Some sqlite db scaling characteristics:

"n" here is table size in rows
(but maybe a db much bigger than table could additionally affect)
btrees are used heavily in sqlite db format implementation
inserts:

indexed:

Most important case
probably O(log n)
can worsen noticeably
over the first 1/2 to several million rows size range

selects

well-indexed:

up to several million rows in table:

efficient enough that overhead, background
can swamp scaling effects.
in example, 0-4 seconds to select thousands of rows
on slow computer.
can sometimes appear better than O(n).

Whole-db operations

create index on existing rows can be worse than O(n2)
vacuum also seems pretty bad
This data might help you

decide when to use SQLite
know what to expect of it
figure out when/how to use hacks/kludges
like splitting a table into multiple db files
("same-machine sharding" / "same-box sharding").
The End